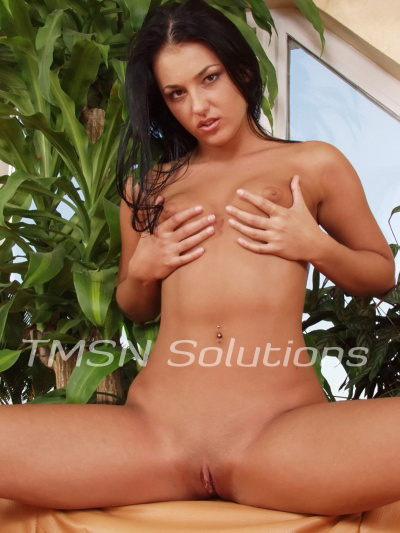 Avery  1-844-332-2639 ext. 228
It's sexy babysitter Avery here again with a story about one of my best babies! I take care of this adult baby and let's just say we've been having some naughty adventures lately totally worthy of an adult baby phone sex call. I can tell you about it here, but there's really nothing like hearing the story first hand, you know what I mean?
See, I'd started noticing that some of my panties were going missing and it seemed to happen every time I saw my adult baby. I know I'm only 20 but I put two and two together and knew it was him. I couldn't prove that he was taking them, but I just had a feeling and needed to catch him in the act….and then punish that bad little boy.
One day we we decided to go on an adventure to the mall so I packed him all up and away we went. Obviously he was wearing a diaper and as we were walking he tugged on my hand and told me he was all wet. I took him for a change and when I opened his diaper guess what I saw? This naughty boy was WEARING a pair of my brand new panties and had two more pairs in there too. A tiny thong wrapped around his dick and one in between his ass cheeks. I KNEW he was taking them and now I had the proof!!!
To say I was angry would be a huge understatement and from the look on his face he knew he was in big trouble. Luckily for me, I always carry what I need in my diaper bag, so I was well prepared for this situation. I told him we were going to go into his favourite lingerie store and he was going to be punished.
We walked right into the change room and I left the door open so any of the sexy girls who worked there could see. No way he was getting away with this nonsense any longer, he needed to be punished. You just don't steal panties from the girl taking care of you and then wet them and ruin them!
Now my little baby boy has a very sensitive ass so I grabbed my thick leather belt for some spankings. One for every pair of panties I was missing so 13 in total. 6 for each ass cheek and then one on his dick for good luck. He was wincing in pain but with a slight smile on his face still. Not acceptable. He thought his punishment was over but we weren't even close…
I pulled out my biggest strap on and put it on. Mr. Strappy was in control now. I told him to spread his legs so I could fuck his tight, thieving ass. I started fucking him pretty hard right away – after all, he needed to be taught a lesson! I wanted to show that little baby who's the boss and what happens when you steal 😉
When he started complaining that the lingerie shop girls were watching and that it hurt I got out my wooden spoon and started spanking his balls. I don't like whiners. And yes, of course, he whined about the wooden spoon too, so that's when I took out my spiked hair brush and started whipping his dick with it. Damn this ABDL can really take a lot. I was impressed!
I have to admit I was actually starting to enjoy this. Pretty much one of the best ABDL babysitting gigs I've had was making his ass mine. I even told him if he was really good at taking his punishment I might let him make a cummy for me….all over my panties while I was wearing them!
We had some real naughty fun in the change room that day before I decided my baby had been punished enough….for now. So I put a fresh diaper on him, took his hand and then we were back off on our adventure. Are you looking for a new babysitter? Someone who will love you in that special way only a teen slut can? Give me a call and book some time of your own in Avery's Babysitter Club! Â 
Avery xo
1-844-332-2639 ext. 228
http://www.sinfullysexyphonesex.com/avery/
https://tlcphonesex.com/avery/