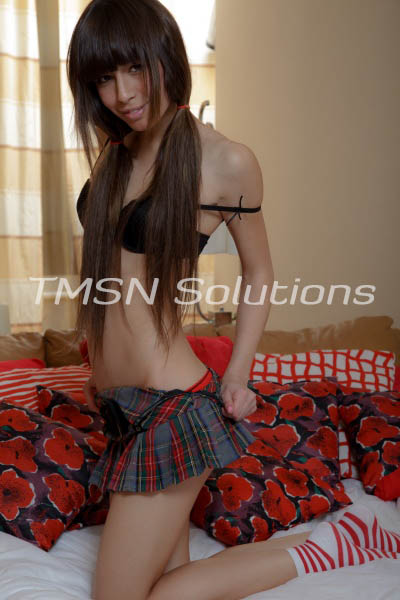 I lean forward, lips parted slightly, and I kiss the tip of your little cock. It perks up at the attention, and I can't help but grant it more. I lick it, tasting the soft skin as I take you into my mouth. You let out a surprised gasp, and I look up to see you lifting your skirt and watching me suck your dick. I smile up at you, the small member still in my mouth, and I continue to tease you with my tongue. It dances and slides all over you, and your face is turning red as you fight to stay still.
I suck on your dick, pulling back as I do and tugging slightly, and when I pull back far enough it comes out with a POP! Then I dip my head under your hardening penis, and you almost lean forward to try and find me. Then you feel my tongue glide along your nut sack, and you moan loudly.
"Mm.." I moan softly and lick and suck your balls, kneading them gently but teasingly with my teeth. You stand there, half-afraid to move, half-yearning for me to never stop. But I do; I stand, halting your pleasure, and I push you onto my bed. You fall on your back, and watch me as pull off my tank top and slide my denim shorts off my body. Then you watch me remove my black thong, and I climb onto the bed and over you. In one swift motion, I roll over and position myself with my ass over your face and my face over your small cock, and I lower myself onto your face, smothering you in my warm wet pussy.
You lean up and lick me, tasting my sex juices, and I moan and grind on your face. As you eat my delicious pussy I close the distance between your little dick and my mouth, resuming the blowjob I started. We continue as such, my head bobbing up and down on your cock and my bum grinding on your face, your tongue and nose getting well acquainted with my cunt and ass. Your cock is rock hard and throbbing, dribbling precum into my teen mouth. Deep in my gut I feel an orgasm coming on, and I grind faster and moan loudly, the vibrations hitting your dick. You moan into my pussy, and I let go of your cock and shout, "Oh fuck, oh fuck, I'm gonna cum!"
Your moans shake my pussy, your tongue drives me crazy, and I rock my hips faster, matching your rhythm. And then sweet release; I cum hard, my orgasm clouding my senses. I fall to the side and scoot up my bed, resting on my side and huffing. Licking your lips, you join me, wrapping your arms around me and planting tingly kisses on my neck and shoulder. We're really close to one another–I can feel your hard little cock pressing against my ass cheeks, begging for attention. This gives me an idea. Glancing back at you from over my shoulder, I say, "Fuck my ass."
Your eyes widen–how could I possibly want anal? Most girls at our school hate the idea. "Are you sure?" You ask. I nod, "Yeah, I don't think your dick is big enough for my pussy, but I think I can feel you fucking my tight ass." I roll over and position myself with my ass available to you, and I feel you scoot close and lift one of my round ass cheeks, and I feel the little head press against my little fuckhole…
My bedroom door flies open, and standing in my doorway is my older brother Jake!
To be continued
Want more like this? Call now!
Josie
1-844-33CANDY x217
(1-844-332-2639 x217)
Josie's Other Sex Ventures:
Professor Dreamy Roleplay Phonesex