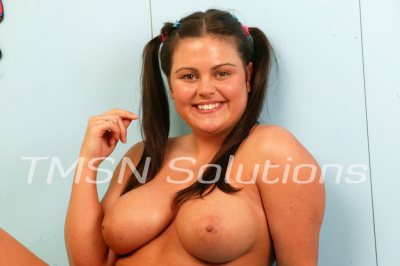 By Krysta 844-332-2639 Ext. 410
All night long, I dragged Daddy around the neighborhood. We were wearing the cutest couple's costume! I was Boo and he was Sully from that kid's movie, ya know? My pink tee-shirt was a little too short and Daddy kept pulling down the back of it saying, "Good girls don't show off their panties, Krysta."
I couldn't help it! I was just so excited to be out trick or treating and skipping around in the dark streets! Hello, free candy makes my fat, teen pussy so wet! Maybe I was also doing it to be a cock tease. Daddy looked so snuggly in his blue and purple monster costume. It made him look soft instead of his usual no-nonsense firmness.
Daddy's Liquid Treats
It was getting late and my candy bag was getting really heavy. I waited on the steps of what Daddy said would be the last house. From behind me, Daddy rubbed his hand up under my tee. Caressing my ass cheeks. I tried to swat him, the door could open at any minute! But he growled. It's not a good idea to swat Daddy.
He slid his hand between my legs and pinched over my panty covered pussy, making me moan as his fingers moved up and down. "Daddy, stop," I whined as I wiggled against his fingers. The door wasn't opening and I wanted a few more pieces of candy before we called it a night. I knocked again. Louder, yelling "Trick or treat."
To be continued
Krysta 844-332-2639 Ext. 410
https://phonesexcandy.com/krysta/