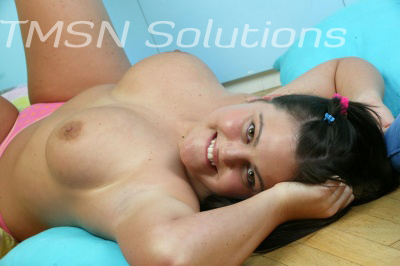 Krysta 844-332-2639 Ext. 410
I've been mean to my Professor. I've forced him into cruel situations, even made him suck cock at a frat party just for giggles. Of course, I did it because I wanted to and because it was fun but knowing how far I've pushed things made me a little guilty. I know he'll do anything I say to keep his wife from discovering what we've been up to, but I was beginning to worry I'd gone too far this time.
Thinking I needed to ease him, I dressed up in sexy lingerie, a lacy bra, garter belt, and stockings. No panties, well, actually, they were in the pocket of the trench coat I used to cover myself up on the drive to his house. It was late, really late. After midnight even and I expected his home to be dark as I parked out front, but his office light was on.
Easing The Professor
I knocked on the door gently, not wanting to wake the rest of the household, and waited. He creaked the door open and looked at me with surprise. "Krysta?! You cant be here."
My fingers reached to cover his mouth as I pushed my way in. "I just wanted to talk. I'll be quiet." Then, I shut the door behind me and led him to the couch. I made him sit in the dark living room, the only light coming from the glow in his office that barely highlighted our features. "I want to apologize," I whispered.
"You don't have to. Just go. My wife's asleep upstairs." I ignored him and undid the belt on my coat. Showing him my luscious curves and naked pussy. He gasped, and I slipped between his legs. Rubbing his thighs and up over his crotch.
"Let me make it up to you, Professor." I freed his cock with a wicked smirk and began to please him like I never have. His head tipped back, and his eyes closed. Then, because I couldn't help myself, while he wasn't watching, I plucked my panties out of the pocket of my trench coat and stuffed them under the couch cushion he was sitting on.
I wanted to ease him, but I'm still me after all.
Krysta 844-332-2639 Ext. 410
https://phonesexcandy.com/krysta/