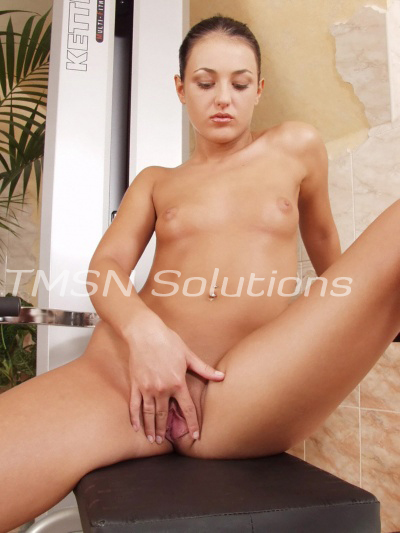 Avery  1-844-332-2639 ext. 228
I can see you watching me. You don't think I do but I do. I always see you. Watching me while I work. Every time I reach down to adjust my skirt or heel I can see you looking out of the corner of my eye.
I wanted to make things a bit more interesting yesterday at the office so I decided to have some dirty fun with you…
You sit in the desk that's a pretty perfect view of me if I turn slightly so I moved my laptop to give you the best view. I purposely wore a short skirt with no panties and the black stilettos I know you love.
I pretended like I didn't see you while I slowly opened my legs and reached up into my skirt… I love being watched so this was really turning me on too. As I turned right into your line of sight the sun hit my pussy and you could see how wet I was. It was glistening with the most delicious juice you've ever tasted.
My fingers started tracing my sweet pussy and I see you shift around in your chair. You can't believe this is happening. I slowly slide one finger inside of me and you hear me let out a little moan. My back arches and my head tilts back as I start feeling the pleasure of my own fingers.
I close my eyes and bite my bottom lip. It feels incredible. Every so often I stop and play with my clit because that always makes me cum really hard. Anyone who knows me knows that my clit is my kryptonite. I can feel myself getting closer and closer to climax. I sink down into my chair and my spread my legs even wider. I can see now you starting to rub yourself over your pants…
My breathing quickens and I start lightly moaning as I get close. I'm trying hard to be quiet because I'm at the office but it's so hard when I need to cum. Then it happens. The most intense feeling rushes over me as my pussy succumbs to my fingers and I let go. I collapse back in my chair.
As I sit there trying to catch my breath I see you staring at me with your mouth wide open. So I sit up straight and cross my legs again, run my fingers over my lips and lick all my sweetness off and then give you a sweet smile before I turn around and get back to work.
I hope you loved my naughty office story. I have so many more to tell you. As many of you guys know I just finished college and have my first office job which is why I'm only here at nights to play with you. So why don't you give me a call one night and I can tell you all of the crazy things that go on with me during the day…
Avery xo
1-844-332-2639 ext. 228
https://tlcphonesex.com/avery/
https://phonesexcandy.com/avery/