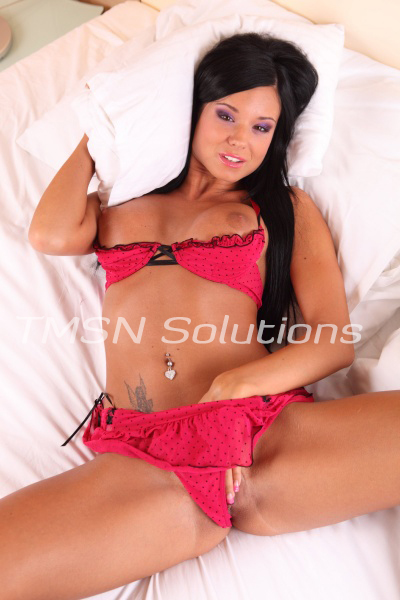 Home alone again tonight. Daddy had to go away on a business trip, so I was left to entertain myself. He wouldn't be back for a couple days, and I was fixin' to go crazy without him for that long. Daddy likes to give me my vitamin D (for dick hahaha) every single day. How was I ever gonna get through these next coupla days without him? He did buy me a new toy, but it's not the same…wahhhhh!! I crave daddy's big dick all the time.
I thought I would have to get through the next couple days without a big dick inside of me, but you know what? I was sooo wrong!
I have a thing for scary movies, so I decided to watch the whole set of a certain Horror series whose victims are usually faced with the decision to either expire slowly and painfully, or saw off their own body parts to survive. This had to be the goriest, most unsexy movies ever, and sure to keep my mind off of my little jewel that was growing wetter each minute that daddy was gone. I went downstairs to get some popcorn so that I could have a snack during my horror movie-thon. Most of y'all don't know this about me, but I am terrified of the dark. As I walked down the hallway towards the kitchen, I flipped on every light switch along the way. I thought I heard footsteps in my living room, so I went to investigate. I noticed the open window, which was strange, since I made sure it was closed earlier. I walked over to the window, but before I could close it, I felt a strong arm wrapped around my waist as a hand covered my mouth to muffle the scream I tried to let out.
He brought me to the dining room table and bent me over it, keeping my eyes from looking at him. He worked quickly as he brought my wrists together behind my back and bound them with rope. He ripped my black leggings off, and I was terrified of what was going to happen next. I could feel him in my ear.
"Hello Ruby. I've been waiting to get you alone for a very long time now." His voice growled with urgency, and I knew that I was in trouble.
I started to cry.
"Please don't do this. I have money and valuables you can have if you just let me go."
"Shut up bitch. I don't want your money, and the only thing of value to me in this house is that cunt between your legs."
He used his weight to slide my body up on to the table and he pulled my legs up so that he could bind my ankles and wrists together, while leaving my ass and pussy up in the air. Then he blindfolded me. I was helpless, so I started screaming, hoping someone could hear me. I live out in the country, so we were all alone. My assailant slapped me and told me if I screamed again he would dispatch me, so I shut up. I could hear him going upstairs and rummaging around daddy's room. He came back downstairs.
"It'll be ok to scream in just a second here, little girl."
I could do nothing as he cracked daddy's leather whip against my ass, with more force than daddy ever has, and it hurt! The leather tore my skin and turned it crimson. The pain was almost too much to take, and I was running out of energy to scream anymore.
Help Me!
Ruby
1-844-33-CANDY ext 252