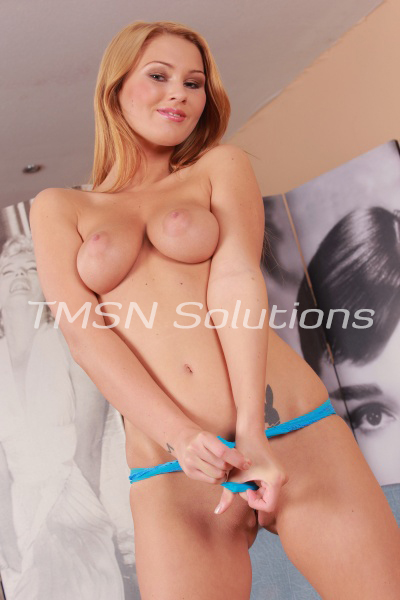 Kayla Cumsalot 1844-33-CANDY ext 357
I'm not used to being controlled. Normally, he lets me take the lead, but he'd been working all day. Too busy for distractions and too busy for me. I do like accompanying Daddy on his business trips, but things can get rather boring waiting in the hotel room for him to finish up with his day.
When he finally arrived, I decided I would pounce on him and tell him how much I missed him while he was gone, but he flipped the script on me! I was wearing white thigh-high stocking and a tiny white thong when he came through the door. Like I planned, I ran into his arms, but he spun me around and growled: "Put your hands on the wall!"
Controlled and Owned
It's not in Daddy's nature to bark orders. Nevertheless, the tone of his voice had my thighs trembling as I faced the wall and placed my palms against the cool stucco. He stepped up behind me. I could feel his dress shirt against my back when he pulled my hair together and over my shoulder.
His firm lips grazed over my neck while his other hand slipped up my stockings. "You've been distracting me."
"No, Daddy! I've been good! I was here; I didn't bother you all day." I whimpered when his palm smacked over my bare ass cheek. The sting rocked right through my flesh and stung my clit. I climbed up on my tiptoes, dancing around as the pain was soothed by his hand.
"You're in my head." He kissed at my neck and allowed his fingers to dance over the center of my very tiny, very wet thong. "What are you doing to me, Kayla?" He played me like an instrument. Knowing exactly where to strum my body until I was screaming his name in a hard, mind-numbing orgasm.
When my body settled and my breathing returned to me, I tried to spin around to face him, but SMACK, SMACK. He spanked me so hard, turning me back until I faced the wall again. "You aren't in charge, Kayla. I didn't say you could turn around."
Kayla Cumsalot 1844-33-CANDY ext 357
https://sweetlovinphonesex.com
https://phonesexcandy.com/kayla/