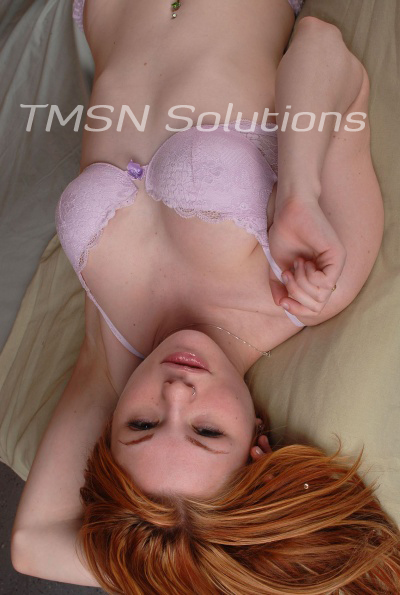 You're lying in your bed, late at night fantasizing about all the dirty, naughty things you would do to a sexy lil teen if she was there with you. You hear a knock on your door, and there I am, Taylor from next door..the sexiest eighteen year old you have ever seen. I'm wearing a short low cut black mini dress, and my long red hair flows down over my perky little tits. I take your hand and let myself inside. I lead you up to your bedroom, and push you down onto your bed. You think you are dreaming, that this could not be possibly happening to you.
I pull out handcuffs from my purse, and cuff you to the bed. I tell you to keep quiet, that I am going to use you as my own personal fuck toy. You feel me crawl on top of you, and sit my perfect dripping wet pussy down onto your face, almost smothering you. I tell you to lick me good, and you begin to lick and suck at my cute lil pussy. I start to giggle and tell you what a good lil fuck toy you are.
I then slide my perfect  pussy down to your cock, and position the head right at my pussy hole. I lower myself onto it and start to use your dick for my pleasure. My own personal dildo. I fuck you until I cream gooey juices all down your cock. When I get up, I hear you begging me to make you cum. I giggle, and say " maybe next time" and toss the handcuff key on your chest.
What do you say…do you wanna be my personal fuck toy tonight? Call me!! 😉
Taylor
866-516-2618