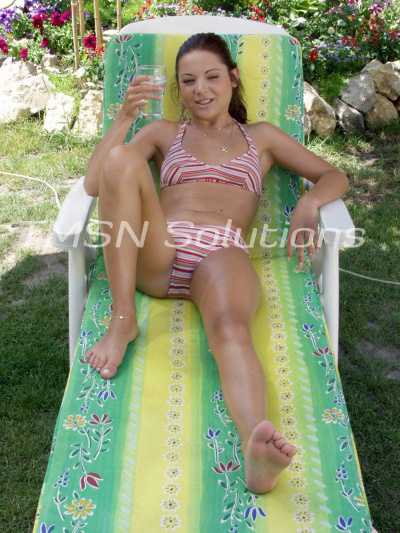 Last night was fucking nuts.  One minute I am asleep and the next I hear a lot of girls laughing while I was being gagged, blindfolded and bound.  One of the voices sounded like LIly who runs the "Ohmi Gotta Phi" house and she has been trying to gather as many HOT guys and SEXY girls to pledge but I didn't want to join because I had to think of my cheer leading, my HOT teachers ♥giggles♥ and my Daddy.  Lily was persistent and wasn't going to give up and I know she had something to do with this plan to kidnap me in the night.
Once I was place inside a building of some sort I could hear a bunch of moans and groans.  Then I knew for sure I was in the "Ohmi Gotta Phi" house cause the room got silent and I could hear Lily say "Welcome to the Hottest Chapter houses on campus".  Oh boy what was I in store for.  I hope maybe some sexual touching and teasing.  Oh how I love that. ♥giggles♥
Then the room got silent again and to my surprise "Daddy???", I asked after hearing his voice.  He arrived late to Lily's Phrat house.  "Ms. Lily I have accomplished your request and brought in Brandi to be forced to pledge for you.  Now where is my reward?", Daddy asked Lily.  "We will discuss about it later so call me later", Lily replied.  OMG Brandi was forced to come to by my own Daddy.  I didn't know he was in on it from the beginning and didn't tell me.  Bad Daddy. ♥giggles♥
Lily had some HOT plans for the night with some HOT black cocks and to be forced to have these black cocks to fuck one of girls hard and let loose their large load inside her.  Once they have relieved themselves then the other girl must lick up that creampie and offer a snowball kiss to that girl in front of the whole "Ohmi Gotta Phi" house.
Does Brandi and I comply to Lily's rules on the pledge?  You will have to call one of us and find out for yourself.
♥TINA♥
800 910 1557
www.phonesexcandy.com/tina.html
www.teenbabesphonesex.com/tina.html
and come see my friend Brandi ♥giggles♥