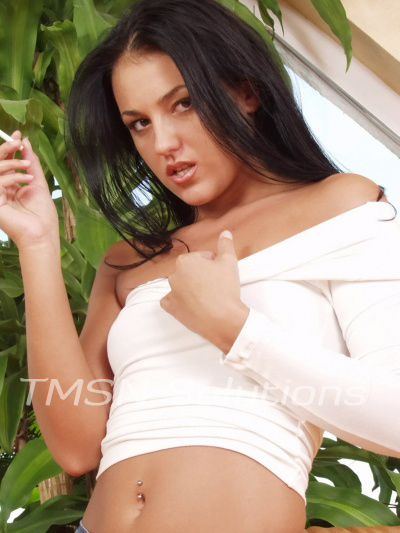 Avery  1-844-332-2639 ext. 228
Sometimes sissy babies are naughty. That's just the way it is. Recently, I caught a sweet sissy baby I babysit named pissysissy with my panties again. He has plenty of new panties that I've given him as rewards but it seems that he's not satisfied with those anymore. He must have my personal panties now.
I have no problem letting him have a pair of mine, from time to time, but the constant stealing has got to stop. I can't afford to keep replacing my panties like this they're expensive! I was fed up and realized I needed to teach him a lesson. I said, "You want panties? Let's go get you some panties!"
He was so happy to discover that I was taking him to my favourite lingerie store. Previously, I had never allowed him (or anyone) to come with me there. It's my private place and I don't share it with panty stealing sissies. Little did he know what was in store for him…
We walked in and were warmly greeted by my salesladies. They were sweet and kind to pissysissy as they walked over to the door and then locked it for our "private shopping session." They smiled and complimented my sissy on his outfit. He was loving all the attention, if he only knew lol. Then they turned on him and told him to take his cute outfit off. He looked confused. One of them said, "I mean it. Take off your clothes." He started to remove his clothes and was embarrassed for me to see he indeed had yet another pair of my laciest panties on. She told him to take them off and give them to me with an apology. He complied.
She then instructed him to get up on the table where the fanciest of panties were displayed. Moving all of of the panties into a pile for him to lay on. Once he had climbed up she told him to get on his hands and knees, while she and the other three salesladies surrounded him. Each one was holding a riding crop. I walked around in front of him, after having donned my favourite strap on. I said, "My sweet sissy, you simply cannot continue to purposely misbehave and apologize. It's not what sweet babies do. So, I'm going to fuck you while these ladies beat your ass. It needs to be very personal so you will remember it." He nodded silently, putting his head down in shame.
The ladies began to spank him, softly and slowly. Picking up power and speed as they went. I got up on to a stool, so that I had direct access to his girly hole. I fucked him hard until he could barely stand it. Telling him not to cum or he would be punished much more harshly. Then I made him roll over. The ladies put my panties back on him and proceeded to play with him and I sat on his face and gave him a golden stream to lap up, that was his reward for taking my strappy. He begged for mercy and asked if he could please cum. Should I allow it? What do you think I did?
I told him he could not cum today. "This will prove your obedience and loyalty to me" I said. Perhaps next time. He said, "There's going to be a next time Miss. Avery?" I said, "Not if you stop misbehaving." We all know the misbehaved gets and panty stealing won't stop. Why? Because that pissysissy of mine loved every second of his punishment.
Avery xo
1-844-332-2639 ext. 228
https://tlcphonesex.com/avery/
http://www.sinfullysexyphonesex.com/avery/
Want to read more of my hot blogs?
https://tlcphonesex.com/author/avery/
https://phonesexcandy.com/author/avery/
https://teenbabesphonesex.com/author/avery/
http://www.sinfullysexyphonesex.com/author/avery/