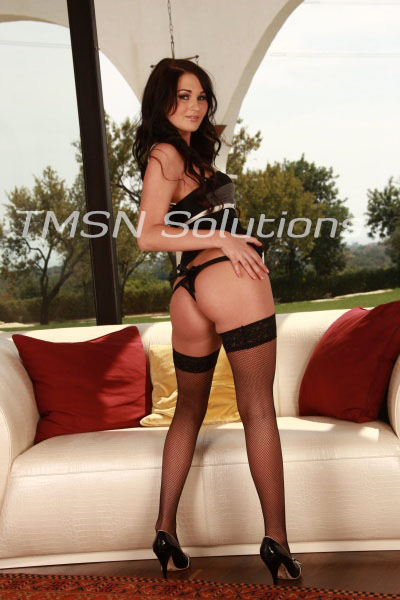 Sweet Lovin' Kayla Cumsalot 1844-332-2639 ext 357
Look at my LEGS, baby. Look how long and toned they are. You love them, don't you? You want to touch them, MASSAGE them, and feel them rub against your skin. Watch as I roll up my pretty BLACK FISHNET STOCKINGS and glide them over my cute little French-tipped toes.
Are you on your knees in front of me to get the best look? Hopefully, you are. That's where my GOOD BOY would be. So I can press my PRINCESS toes against your nose as I slide the soft NYLON up over my ankle and along my calf. Mmm, you like that, don't you, baby?
I can see your cock bobbing between your naked thighs as I roll them high up on my thigh. That few inches of lace at the top of my stocking looks so lovely against my pale skin, doesn't it? Hold my heel for me while I push my stocking-covered foot into my shoe.
Now, the Next Fishnet.
You are such a good helper. Time to put the other stocking on now. It makes me giggle when I shove the toe of my pump under your balls and lift up gently while together, we pull the other stocking over my perfect foot. That's it, baby.
Help me glide this stocking up over my shapely leg, all the way to my thigh. That feels good, doesn't it? That heat coming from my center? You can feel it warming your fingers when they get to the tops of the stockings. Those small holes in my fishnets let you feel my warm skin through the nylon as you drag your fingers back down my leg. Next, I'm going to lift my pretty black pump and step squarely on the base of your DRIPPING COCK.
Look! Look down at your silly cock; it's dribbling precum right down over the toe of my heel! We can't have that now, can we, baby? I'm going to stand now and lift my heel up to your mouth. Lick your cum from my shoe! I can't go out on a date with my BIG, ALPHA cock with your sissy cum staining my shoe.
Be a good boy till I get back, alright?
Sweet Lovin' Kayla Cumsalot
1844-332-2639 ext 357
www.teenbabesphonesex.com/kayla/